Party Hire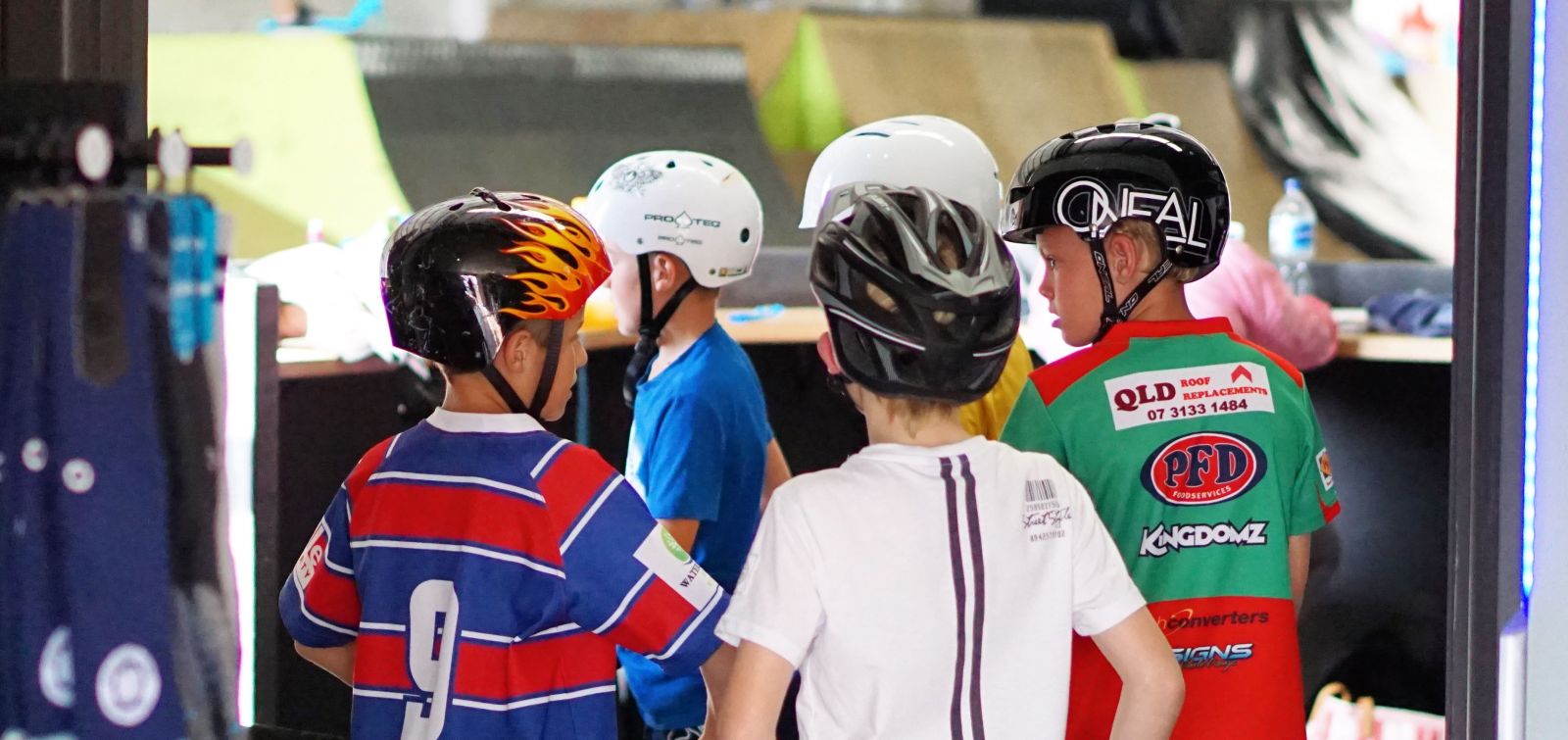 If you're after the perfect place for an unforgettable birthday party, The Village Park & Supply is the place for your next Birthday Party. It's definitely a healthier option than McDonalds, way cooler than hiring a clown, and you don't have to clean up after anyone (we'll take care of that part for you)! Oh, and the weather is never a problem!
We cater for BMX, Skate and Scooters (plus just about anything else without an engine!) – and have plenty of hire gear available if you don't have your own.
Plus – you can really make your party extra-RAD with an appearance from one of our resident Pro Riders! We have some of the best BMX and Scooter Pro's in Australia available to put on a show and clinic for the kids.
We have no age limit on our parties either – so big kids, or even adults pretending to be kids are welcome to participate!
We have 2 different birthday party packages available, and we're always happy to work you to suit your needs.
Give us a call on (07) 3172 1840 to find out more or book in.
Or you can send us any questions here – Email Us
Standard Party Package – $50 base + $15 p/person (minimum 4 people)
This is the party all your friends will be jealous of for the next 12-months. The one-stop shop for entertaining and feeding the whole group!
What you get:
The $50 party booking locks in your own private VIP party area with a table for you and your guests, overlooking the skatepark!
Park sessions – Each member will receive a 3 hour park session.
Private Session Party
Yep – hire the whole place out for yourselves! That's 1500 square feet of skate park just for you… sounds pretty cool right?
The price of a private session party can vary depending on when you'd like to hold it, with some sessions being more expensive than others (depending on the day, school holidays etc). So give us a call or shoot us an email with your ideal date / time and we'll go from there.
Prices start from $450
Something Extra
Since no party can ever be the same, we offer a couple of ways to add that little extra punch:
Pro Rider Demo or Clinic
We can organise for one of our resident pro's to come down, hang out, ride around and show the guests a few cool new skills on either their Scooters or BMX. Since we're lucky enough at The Village to have some of the world's best riders calling this their local, you'll always end up blown away by what they can do!
Pro Riders cost $100 for the first hour, and $60 p/hr after that.
Food Extras
Currently we are not offering catering options however we will be revelaing some exciting new catering packages very soon so keep an eye out!
In the meantime we have a fridge available to keep your cake or other goodies cool and there are a selection of popular food options closeby.
Please note that:
We do require a 50% deposit on the booking of your party to lock that date away. If you cancel more than a week out, we can refund this. If you cancel any later than this, the deposit is not refundable.

All parties (including private session parties) are subject to our standard rules and conditions of entry.

All private session parties are subject to availability and to book a private session you must give us at least 2 weeks' notice.
Park Hire & Group Bookings
The Village always welcomes special group bookings & hires – whether it's for a school, youth group, special event – or pretty much anything that takes your fancy!
We're open 7 days till late so
give us a call: 0731721840 to find out more or book your Party.
Or drop us a line: Email Us